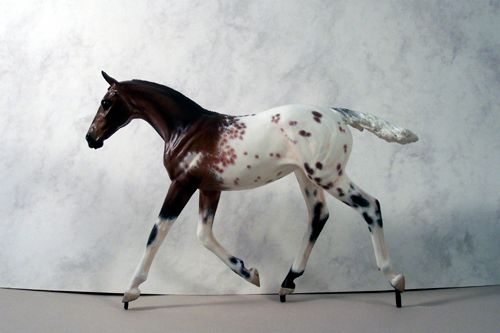 Carlee Balling warmblood foal sculpture "Gesche" painted a dark bay appaloosa by Danielle Feldman. This paintwork done in 2006, I suspect this is painted over an older paintjob as only 5 in this edition were released unpainted, and I think those 5 ended up finished by Carlee (except for the one I have--I painted her)
This resin was created in 1997 by Carlee and was sold as a run of 50, mostly painted by Tom Bainbridge. Carlee reserved 5 copies for people who had expressed interest in the horse prior to it being cast. I got one, Kate Cabot got one (Carlee painted this one), Leslie Phelps got one, and I forget who got the other two.
This foal has been shown as an appaloosa sport horse named "Wap's Baby Doll"
Ephemera: ROM certificate in AR Sport Foal