This blog pretty much serves as an online archive of my model horse collection--horses, tack, props, everything. It is an ongoing work in progress. Please note--nothing featured here is for sale! Click on any photos to see the entire image
Tuesday, March 24, 2009
Family Arabian Foal #203 "Doc"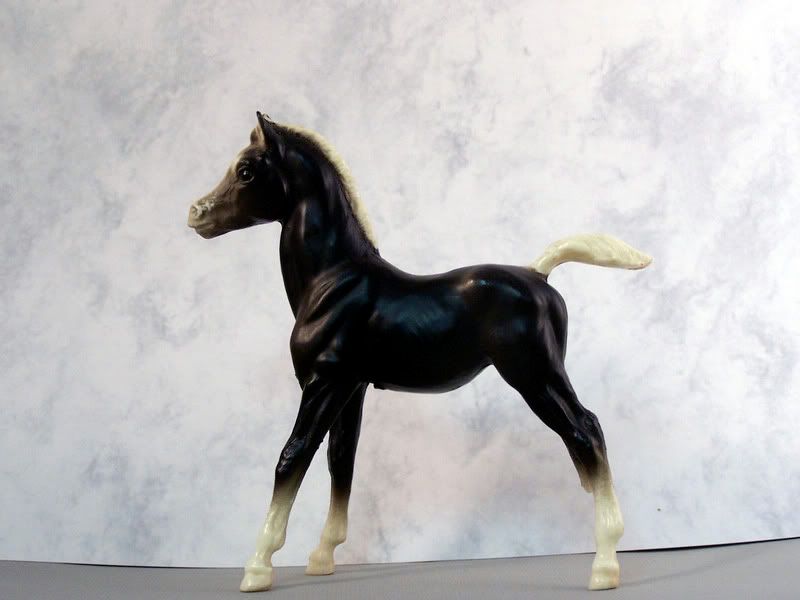 Family Arabian Foal #203 "Doc"
Matte version produced 1968-1974
Condition: 2 broken RH leg (I have the leg)
Blog Archive

About Me
Outstanding commissions
So I do not lose track of it, these are my outstanding commissions:
In progress:
Micro Night Heather with C. Riley
Pending deals, waiting on something or another:
Iaret by Danelle Gatcombe. Horse paid for and here, I need to prep and send to Danelle.
Quartermaster with Steph Michaud, need to ship her the horse!!!!
Repairs:
CMG Daffyd, broken hind leg and tail. Seeking restorer.

Want List
Unpainted Resin Collection
AA Arab Mare Relaxing
AA Boxing Shire
AA Dauntless
AA Exmoor
AA Flying Fresian
Alphabet Bashkir
Balling Hen
Balling Mini Standing Morgan
Deputed Duke
Dinky Duke (2)
Flitwick
Hairy Finn
Hana (cat)
Iaret
Kaltix
Kipling
Lancelot
Little Man Mango
Marshall (Harris)
Mini Cromwell
Mini Fabrizio
Moose Medallion (3)
Morsel
Morsel Redux
Napoleon (cat)
Netsky
Oliver
Parrs Dream Doll
Patches (cat)
Pixie (bisque)
Poudre
Ratrod
Rising Hopes (prepped)
Ruah
Sweet Lullabye
VToo
Vata
Vegas Medallion

Useful links
Labels
Action Stock Horse Foal
(5)
Adios
(6)
Alborozo
(1)
Amber
(3)
American Saddlebred
(1)
Andalusian
(2)
Appaloosa Performance Horse
(2)
Arab Yearling
(1)
Artist Resin
(3)
Artist Series
(2)
Ashley
(2)
Belgian
(2)
Big Ben
(6)
Black Beauty
(3)
Black Stallion
(4)
Bressay
(1)
Breyer
(198)
Breyerfest
(33)
Brighty
(1)
Buckshot
(2)
Cantering Welsh Pony
(7)
Carlee Balling
(1)
Cedarfarm Wixom
(3)
Celebration Model
(12)
Cigar
(2)
Classic
(1)
Cleveland Bay
(3)
Clydesdale Foal
(1)
Clydesdale Mare
(4)
Clydesdale Stallion
(5)
CM plastic
(1)
Commemorative
(4)
Connoissuer Series
(1)
Custom Glaze
(1)
Danielle Feldman
(1)
Decorator
(9)
El Pastor
(2)
Equitana
(3)
Family Arabian Foal
(9)
Family Arabian Mare
(9)
Family Arabian Stallion
(7)
Fighting Stallion
(6)
Five Gaiter
(8)
Fjord
(1)
Foundation Stallion
(3)
Foxtrotter
(3)
Fresian
(1)
Fury
(2)
G2 Rearing Arabian
(1)
G3 Warmblood
(1)
Galiceno
(1)
Gambler's Choice
(2)
Gem Twist
(1)
Gillen
(1)
Giselle
(1)
Grazing Foal
(3)
Grazing Mare
(4)
Hackney
(1)
Halflinger
(1)
Halla
(2)
Halloween
(3)
Hanoverian
(6)
Huckleberry Bey
(3)
Ideal American Quarter Horse
(1)
Indian Pony
(6)
Involidable
(1)
Iron Metal Chief
(4)
JAH
(10)
JC Penney
(15)
John Henry
(4)
Jumping Horse
(4)
Justadream
(1)
Justin Morgan
(2)
Kipper
(1)
Kirsten Wellman
(1)
Kristina Lucas Francis
(1)
Lady Phase
(10)
Lady Roxanna
(1)
Legionario
(4)
Lesli Kathman
(1)
Limited Edition
(4)
Lonesome Glory
(1)
Man O War
(1)
Marabella
(2)
Midnight Sun
(4)
Mini
(2)
Morgan
(1)
Newsworthy
(1)
OF Plastic
(195)
Peruvian Paso
(1)
Pour Horse
(1)
Proud Arabian Stallion
(1)
QVC
(2)
Regular Run
(96)
Rejoice
(1)
Roxy
(1)
Salinero
(3)
Sarah Rose
(2)
Sears
(8)
Set
(35)
Showjumping Warmblood
(1)
Signing Party
(1)
Sommer Prosser
(2)
SpecialRun
(99)
Spiegels
(1)
Stablemate
(2)
Stone
(1)
Tennessee Walking Horse
(1)
Thumb scale
(1)
Tour Model
(5)
Toys R Us
(1)
Traditional
(195)
USET
(1)
Volunteer Model
(8)
Woodgrain
(5)