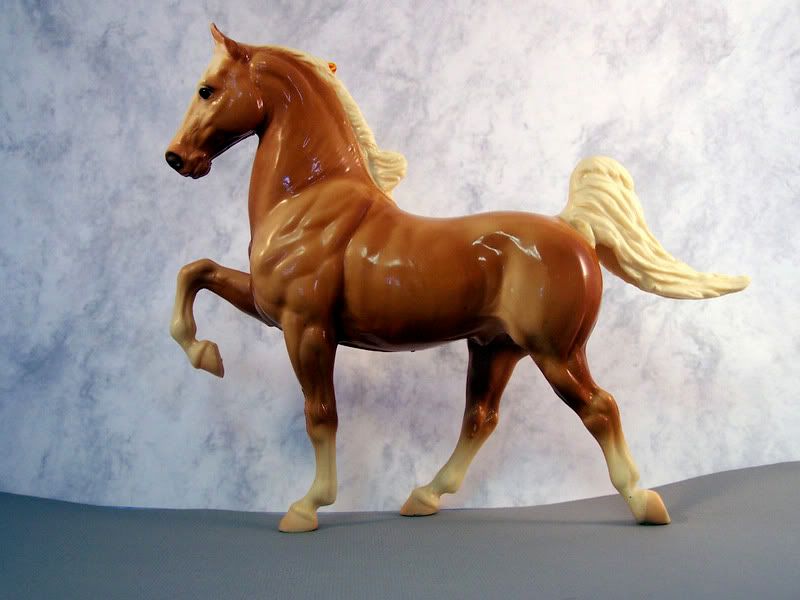 Five Gaiter #53 "Commander"
Produced 1962-1971. This particular model probably from before 1963. I base this estimate on the fact that his ribbons are visible on the left side of the horse as well as the right and that he is more tan than yellow--he is a nice shade of palomino though not typical of the really TAN early ones.
This model has a little bit of a sad story. I stumbled on him via Ebay where he was being sold by a person who appeared to sell stuff on Ebay professionally and was not a hobbyist. She also had an old custom Breyer for sale and it was through discussion of that horse I found this one. As it later came out, these horses were found in a storage locker that had not been paid for in some time, so the storage company sold the contents. The owner was a hobbyist who died and the family did not know about the storage locker. This information came out after I bought this fellow, and made me a little sad, and is what partially inspired me to document my own collection. I don't want some of beloved horses to just be sold on Ebay without someone knowing they even exist.
Ephemera: Ebay invoice from January 2007
Condition: 3+ a couple small rubs--overall in excellent condition for a nearly 50 year old plastic horse.