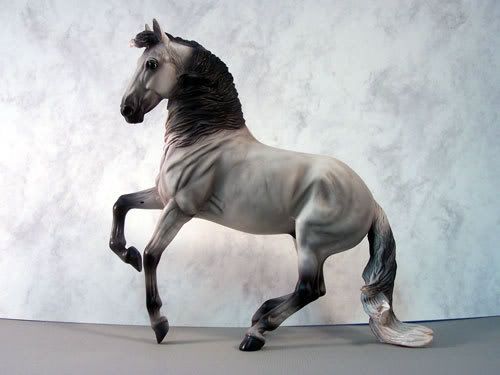 "Alborozo" 2008 Breyerfest Celebration horse, light dapple grey.
Sculpted by Birgitte Eberl. Unknown number produced.
Marked "2008 Breyerfest Celebration Horse" in gold on belly. Breyer/Reeves copyright mark on inside left hind leg.
The mold for this horse was destroyed after the mold run. Per announcement made at the 2008 Test Run Auction, there are a few bodies held back to be turned into one of a kinds, but there will be NO other runs (even small production, volunteer model type runs) produced.
I received this horse free as part of my compensation for volunteering to judge at Breyerfest Live. The 3 day ticket that year was $85.00 and vendors were offering between $50 and $70 credit for these at Breyerfest.
Ephemera:
I have box back info card, 3 torn Celebration Horse Pick Up tickets, and the Breyerfest Trading card.
Condition:
3+ No rubs, some seams noted about the head and neck.